"Independent filmmaking is like the rodeo – your ride will last as long as you can handle the bull."
Body of Art – feature screenplay
BODY OF ART – a dark comedy about an obscure filmmaker filled with doubts from his mother's lifelong emotional abuse who destroys her career as a marionette puppeteer by plastinating her arms and films it, launching his career as a big time movie director.
Hemp Already – episodic unscripted series
An episodic unscripted series about the pioneers that are helping to save the planet by making innovative products with the most versatile, sustainable and eco-friendly plant in the world, hemp.
Killing Happy – feature screenplay
KILLING HAPPY – a dark comedy about finding a reason to live, despite having everything you need to be happy.
When a middle-aged man feels alive for the first time in years after volunteering to be in a hypnotist's nightclub act, he sets out to kill the source of his soul-sucking happiness: his family and job. He succeeds in destroying his life only to discover he had what he needed all along.
Ask the Mayor – feature screenplay
ASK THE MAYOR – a comedy about a failed eco inventor who becomes the town hero, gets elected mayor and takes down the corrupt garbage baron who runs the city landfill who just happens to be his father-in-law. If the Farrelly brothers remade Chinatown this would be it. Only about garbage instead of water.
Imitating Art – TV pilot
IMITATING ART – a 30 minute single camera comedy about a 40 year old struggling L.A. musician with a cult following who believes he's the reincarnation of Dionysus, who teams up with an old high school buddy and troublemaker turned broke cop to sell art forgeries.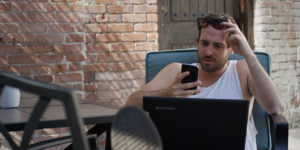 About Narrative Commercials/Fashion Films Photography News Contact