"Independent filmmaking is like the rodeo – your ride will last as long as you can handle the bull."
Body of Art – feature screenplay
BODY OF ART – A dark comedy about an obscure filmmaker who destroys his mother's career as a marionette puppeteer in order to become a big time movie director.
Untitled – feature screenplay
Untitled – Haunted by a tragic accident in his youth, a man sets out to destroy his happy life and get the justice he deserves.
Ask the Mayor – feature screenplay
ASK THE MAYOR – a comedy about a failed eco inventor who becomes the town hero, gets elected mayor and takes down the corrupt garbage baron who runs the city landfill who just happens to be his father-in-law. If the Farrelly brothers remade Chinatown this would be it. Only about garbage instead of water.
Imitating Art – TV pilot
IMITATING ART – a 30 minute single camera comedy about a 40 year old struggling L.A. musician with a cult following who believes he's the reincarnation of Dionysus, who teams up with an old high school buddy and troublemaker turned broke cop to sell art forgeries.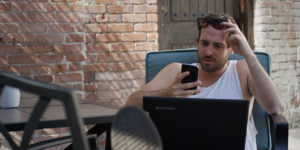 About Narrative Commercials/Fashion Films Photography News Contact