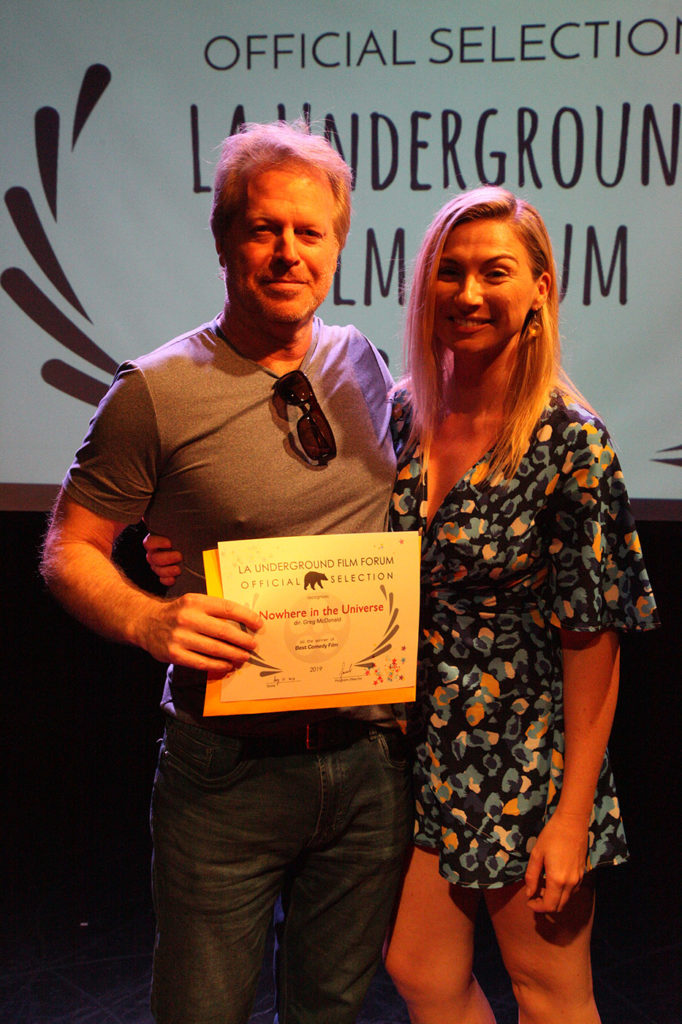 My film I wrote and directed, Nowhere In the Universe won Best Comedy Film and Audience Choice Award at the Los Angeles Underground Film Forum! The film is a sci-fi comedy about how some lines can never be crossed no matter how desperate you are.
Keeping with the 'underground' theme, the festival was low-key, they didn't do a whole lot of promotion but it was a lot of fun hanging out with Kaitlyn Clare, who played the alien in the film, and actor Brandon Bernath. And it was close! It screened not far from my place so it was very easy to get to. The only criteria I have when submitting to film festivals – it has to be very close 🙂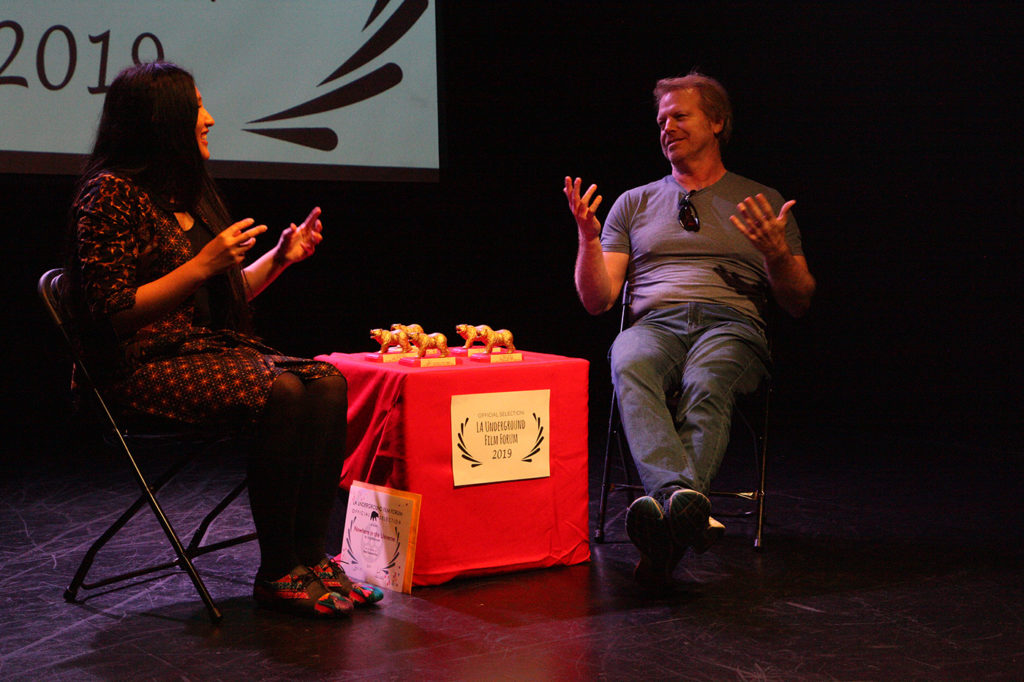 I give good Q&A
Nowhere In The Universe got a great response from the audience which is so much more satisfying to experience in person vs. getting a couple likes online. And it was an added surprise winning Best Comedy Film and the Audience Choice Award!
I have to say I do give good Q&A. Haha! It helped that the people who put on the festival were very cool and nice and that makes all the difference in the world. Some festivals I've been to treat the filmmakers like leeches. It was good to see the opposite at the LA Underground Film Forum.
Watch my after party interview at the La Jolla International Fashion Film Festival.
I've submitted the film to a couple more festivals but I'm ready for the next project. What will it be? I'm not sure, I'm kicking around a few ideas.
Need a Director and/or a film crew and post for your project?
Give me a hollar if you're looking for a director for your film or commercial video. I'd love to talk to you about it. My company, Gate5 can provide production and post.
For narrative films, humor and comedy character based stories are my specialty. When it comes to commercials, I've done everything from construction , tech, manufacturing, financial services, product demos, to beauty, makeup and fashion.
About Gate5, a Los Angeles video production company
Gate5 is a full service video production company producing engaging and results driven video content for big and small businesses and advertising agencies and we produce narrative films.
We conceptualize, write scripts, secure locations and permits, cast actors, direct, film and edit viral videos, branded films, product and promotional videos, web and TV commercials, episodic content and live video streaming production.
So contact me. I'll be waiting by the phone.
Check out my other pages – Photography, Narrative, Commercials and Fashion Films.